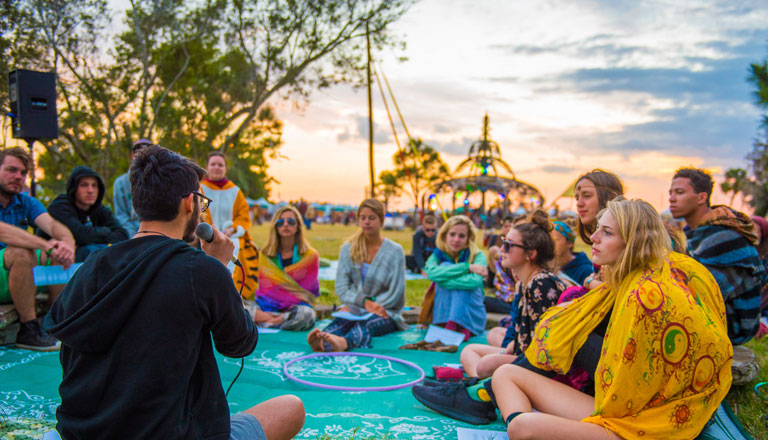 Get Involved
From artists and performers, to teachers and workshop leaders, to vendors and sponsors, we are excited to have you as part of the OMF experience. Please read below for categories of involvement. Complete the relevant form, including as much information as possible, and you will be registered for consideration in our selection process. All applications are due December 6. We look forward to entering the portal with you!
Art Installations/Visual Arts
We are looking for artists of all kinds and mediums to join us on this journey! Here's a quick rundown of what we're looking for:
Interactive art and artful experiences that hold interest in both daylight and evening hours. For safety reasons, all installations must be lit for the duration of the festival. We accept existing work and newly proposed work specifically built to be unveiled and experienced at the festival.
Your work should be able to survive the elements of the natural environment (wind, dirt, bright sunshine, and potentially rain).
Some of the values we hold dear are sustainability and the repurposing/upcycling of locally sourced materials. Therefore, we are particularly excited to see proposals that use materials sourced in sustainable ways and celebrate a recycling culture.
Photographers & Videographers
Interested in capturing OMF? Fill out the application below and you will be registered for consideration in our selection process.
Craft/Retail Vendors
A big part of our mission is to showcase locally crafted art, fashion, jewelry, and other authentic items that have been created with thought, care, and love. We support the "fair trade" and "triple bottom line" movements and are particularly interested in finding vendors who showcase locally sourced/produced, environmentally safe, and sustainable items.
10ft x 10ft Tent/Space = $3,500 flat fee
10ft x 20ft Tent/Space = $4,500 flat fee
Fees include:
Tent w/ sidewalls on 3 sides & a light
Booth facade
(1) 8ft table & (2) chairs
(1) 20-amp connection
Basic wifi connection for register use only
(1) car parking pass
(1) tent camping pass
Staff credentials—to be advanced
Vendors are responsible for providing all other equipment needed to conduct their business in a safe, responsible environment (including but not limited to fire extinguishers, insurance, etc.) and meeting all health/fire department regulations.
Local and surrounding area craft vendors: We offer a discount to the list vending price. Please complete the application for full information.
Food Vendors
We are excited to welcome local food vendors of all kinds. Our goal is to showcase vendors with unique and healthy food offerings, as well as sweet treats!
Nonprofits
We are committed to supporting a variety of nonprofit organizations and causes that directly benefit the community in which we operate.
Performers
We are looking for performers of all sorts to make our event a fully immersive experience!
Sponsors/Partners
Interested in having your brand represented at OMF? Complete the form below!
Workshops
OMF seeks passionate, knowledgeable people/groups to lead inspiring, thought-provoking workshops at the festival.
Yogachobee
We seek yoga instructors and healers interested in being a co-creator of Yogachobee. An integral part of OMF, Yogachobee hosts a complete yoga experience, including funky flows, restorative sessions, massage therapy, sound healing, creative workshops, and so much more. We are excited about all of the possibilities for this very special area!