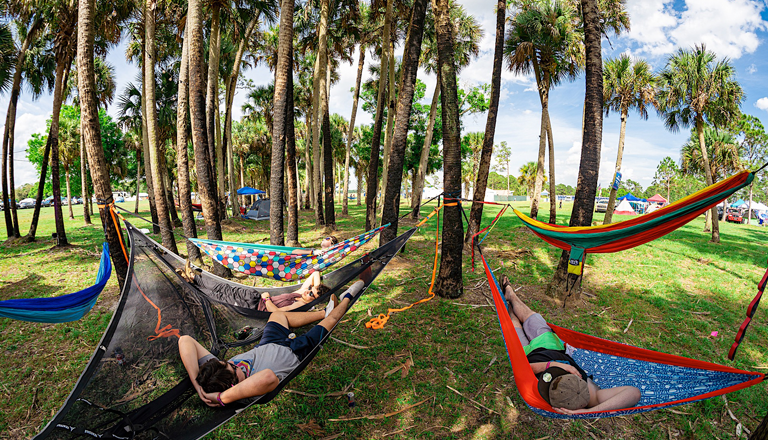 Festival Guide
Your journey through the Portal begins in an idyllic place of happiness and respect, where vast grasslands, pine and palm forests and sun-kissed lakes meet to form a land that we love and covet – a place that takes us to another world. We are ready to Enter the Portal. We travel to Sunshine Grove to love, laugh, listen, dance, sing, create, meditate, eat, drink, explore and live together for four magical days and live the OMF mantra – to Be, Here, Now.
The wonderful world of Okeechobee is yours to explore. Embrace your inclination to wander Sunshine Grove and discover what lies within the festival's tree-lined passages. You will discover endless creativity carefully curated to delight all of your senses.
The Grove is a sprawling meadowland encircled by a pine and palmetto forest as far as the eye can see. The Grove is home to the BE and NOW stages plus all of the food and drink options you could ever crave. Beyond the Grove lies Moonlight Oasis. Moonlight Oasis is made up of the Chobeewobee Village, the HERE stage, Aquachobee Beach stage, Jungle 51 and Incendia. Chobeewobee Village is full of immersive art experiences and performance areas, bazaar-like shops, Yogachobeee, food and drink vendors and much more. Follow the path to Aquachobee Beach and enjoy the day-to-dusk sets while you bask in the sunshine. Don't forget to save your energy for the otherworldly vibrations of Jungle 51 and the fiery nights at Incendia.
What to explore first? Let your senses lead the way. You'll get to wherever you want to go if you just keep exploring…
Box Office Hours & Information
Box Office & Will Call PickUp will be located at the following location:
Okeechobee Agri-Civic Center
4601 Hwy 710 Okeechobee, FL 34972
3/02 Wed – 9am- 9pm Agri-Civic Center
3/03 Thu – 7am- 12am Agri-Civic Center
3/04 Fri – 7am- 10pm Agri-Civic Center
3/05 Sat – 10am- 6pm at Agri-Civic Center
3/06 Sun – 10am- 6pm Agri-Civic Center
Festival & Camping Maps
Festival Map

Camping Map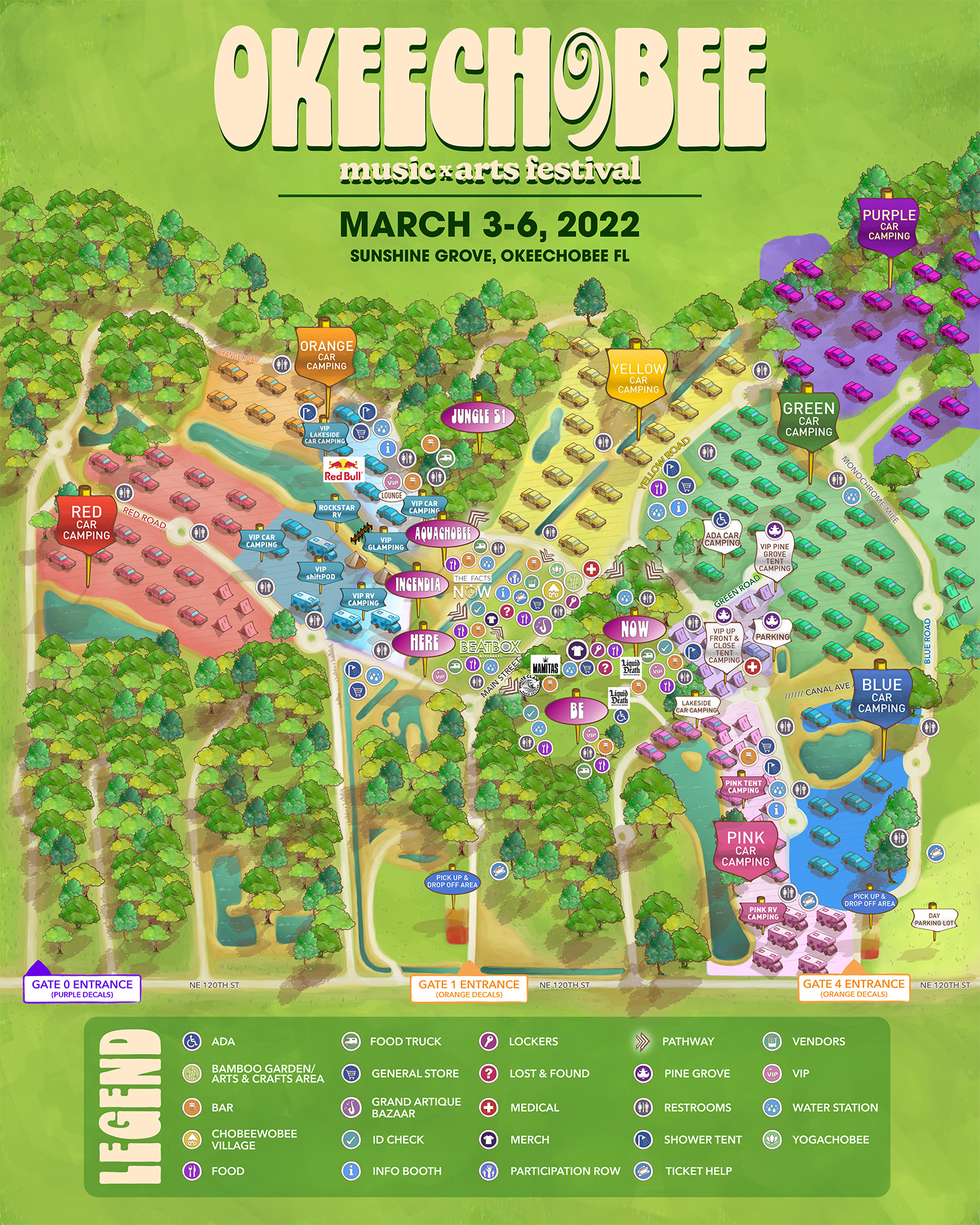 Festival Information
Info Booths
The Okeechobeeing's best friend for festival information, Info Booths are the main locations for reporting issues or needs. For example, RV campers can purchase and schedule fresh water fill and grey/black water tank dumps from the Info Booth as needed.
The main Info Booth at Chobeewobee Village will be open 24/7 throughout the festival. Additional Info Booths will be located at each shower pod with hours as follows:
Thursday: 1PM – 7PM
Friday: 7AM – 7PM
Saturday: 7AM – 7PM
Sunday: 7AM – 7PM
Monday: 1AM – 12PM
Lost & Found
Lost & Found stations will be located in Chobeewobee Vlilage and in the Grove. The Chobeewobee Village location will be open 24/7 throughout the festival, while the Grove location will be open during regular festival Grove hours.
Wristband Customer Service
Ticket Help locations will be located near the main festival entrances and will be open during regular festival hours.
Lockers
Rental lockers are available in Chobeewobee Village and the Grove at single-day and four-day rates. Please take care of your valuables! The festival organizers are not responsible for any lost or stolen items.
Showers
Shower pods are located throughout the campground. You may purchase shower tokens at any adjacent General Store location or the main General Store located in the Village. Shower hours across all pods are as follows:
Thursday: 12PM – 7PM
Friday: 7AM – 7PM
Saturday: 7AM – 7PM
Sunday: 7AM – 7PM
Monday: 7AM – 12PM
VIP Upgrades
You can upgrade your GA festival pass to a VIP pass by visiting our upgrade booths at the BE, HERE and NOW stages. By upgrading, you will gain access to all VIP viewing areas throughout the festival. Upgrades will be available for purchase Thursday through Sunday. Please note that you will not be able to move your campground from GA to VIP with this upgrade, this is for access for VIP viewing areas at stages and VIP amenities only.
Activities Schedule By Day
Check out the diverse range of activities offered by Okeechobee on the Activities Schedule!
Eat Your Heart Out
Food Vendors
Asian Sensation (teriyaki chicken bowl, Korean spicy chicken bowl, General Tso chicken bowl, vegetarian bowl, fried dumplings)
Big Wil & The Warden (Louisiana-style festival cuisines)
Bulldog Burgery #1 (burgers, fries, chicken fingers, watermelon)
EFE's (gyros, chicken pita, falafel wraps, chicken tender baskets)
Farmboy Foods (burger, fries, loaded nachos, grilled cheese)
FestiBowl ("farm to fest" veggie bowls and smoothies)
Fresh N Juicy (smoothies, aguas frescas, fruit)
Hebros (Greek/American)
Hippie Dips (smoothies, breakfast burritos, sandwiches/wraps, salads, hand-cut garlic fries)
Homeslice BBQ (pizza, noodles, black lemonade, breakfast, cajun)
Island Noodles (Hawaiian-style soba with vegetables)
Japanese Flair (Japanese-style hibachi, Asian appetizers)
Mazzamia (pizza by the slice, baked ziti, meatballs, lemonade)
R+R BBQ (cherry smoked pulled pork, cherry smoked brisket, smoked vegan crab cakes, mac n cheese, cherry smoked ribs)
Shady Groves (wraps, fries, boneless wings, breakfast)
Slush'd (100% juice mix, organic slushies in a variety of delicious flavors)
Space Fruit (nitro-fruit smoothies, space fruit bowls, cosmic cold brew)
Stoked Poke (acai bowl, ahi tuna poke bowl, chicken tacos)
Ticas Tacos (tacos, burritos, nachos)
Zaxby's (chicken fingers, wings, salads, chicken sandwiches, sauces)
Zeny's (chicken tenders with fries, cheeseburger with fries, Philly cheesesteak with fries, loaded steak with fries, corndog)
Food Trucks
681 Seafood (conch fritters, garlic truffle mac & cheese, blue crab fries, garlic noodle, grilled shrimp)
Hunnyz Wingz N Thingz (wings, fish, shrimp)
PDS Street Tacos (tacos, nachos, quesadillas, burritos, rice bowls)
Reggae Beets (vegan jerk jackfruit bowl, vegan BBQ jackfruit bowl, vegan meal replacement smoothies, jerk chicken quesadilla, jerk chicken bowl, jerk chicken mac & cheese)
Tony Waffles (chicken and waffles, waffle pops, passion fruit juice, ice cream)
Tumbao Buns (bao buns, noodles, fried rice, rice bowls)
Urbora (hot/cold latte, cold brew and nitro coffee, fraps of various flavors)
Food Carts
CocoCrissi (Italian ice)
Toby's (turkey legs, frozen lemonade, arepa)
Set Times
Set times are available on the following page:
Grand Artique Bazaar
Welcome to the Grand Artique Bazaar! Hidden in the palms, this is a zone to chill, a spot to hide out, a ground to dance, and a place to celebrate beneath the fronds, draped in color and light. This is where beautiful decay is held together with bright decor, where a Moroccan village meets a scavengers' camp under the stars. As you dance to the beats of the music on stage, you are greeted by The Humms, the inhabitants of the Bazaar, who are themselves quite bizarre: ready to cast spells and make wishes with you, paint your skin, strike up a trade, or read your fortune. There are many delights up their sleeves waiting to be discovered.
Grand Artique Bazaar, for the bizarre, by the bizarre.
Performance Schedule
Thursday, March 3
6:30pm – 7:30pm: Josh Gluck
8:00pm – 9:15pm: Jen in the Right Light
9:45pm – 10:30pm: Kosmo Kint
11:15pm – 11:45pm: Brandon Vee
12:15am – 1:15am: Fire Flower
1:30am – 5:30am: Cafe Bosna
Friday, March 4
1:30pm – 2:30pm: Matter of Minutes
3:15pm – 4:00pm: Delnur
4:30pm – 5:15pm: sixx4sixx
5:45pm – 6:45pm: Afrobeta
6:45pm – 7:45pm: Jonny from Space B2B Sister System
11:00pm – 12:00am: Phunk Bias
12:30am – 1:15am: Kosmo Kint
1:45am – 3:00am: Shane Hall
3:30am – Sunrise: Cafe Bosna
Saturday, March 5
12:15pm – 1:15pm: Puma
1:45pm – 2:45pm: Dionysus
3:15pm – 4:15pm: Madwoman
4:45pm – 6:00pm: Shane Hall
6:30pm – 7:30pm: The Certain Something Game Show
11:15pm – 12:15am: Sacred Cream
12:45am – 1:45am: El Gigolo Andino
2:15am – 3:30am: Red Giant Project
3:45am – 5:00am: Ephcto – Jaguartivist
5:30am – Sunrise: Cafe Bosna
Sunday, March 6
12:30pm – 1:15pm: Josh Gluck
1:45pm – 2:30pm: Jen in the Right Light
3:00pm – 3:45pm: Madwoman
4:15pm – 5:00pm: Dionysus
5:30pm – 6:30pm: Lemon City Trio
7:00pm – 8:00pm: The Certain Something Game Show
11:00pm – 12:30am: Threefalcon
1:00am – 2:00am: The Librarian
2:30am – 3:45am: Red Giant Project
4:00am – 5:00am: Mangusto
Plus pop-up performances all weekend by Brittany Quidang!
Stage Info & Hours of Operation
BE
Thursday: 6PM – 2AM
Friday: 3PM – 2AM
Saturday: 3PM – 2AM
Sunday: 12:30PM – 12AM
HERE
Friday: 3:00PM – 12:15AM
Saturday: 3PM – 12:30AM
Sunday: 12PM – 10:20PM
NOW
Friday: 3PM – 12:25AM
Saturday: 3PM – 1:30AM
Sunday: 12:30PM – 10:50PM
Aquachobee
Thursday: 6PM – 12:30AM
Friday: 12PM – 9PM
Saturday: 12PM – 9PM
Sunday: 12PM – 9PM
Jungle 51
Thursday: 6PM – 7:00AM
Friday: 6PM – 7:00AM
Saturday: 6PM – 7:00AM
Sunday: 5PM – 5AM
Incendia
Thursday: 12:00AM – 3AM
Friday: 10PM – 4AM
Saturday: 10PM – 4AM
Sunday: 10PM – 2AM
Main Areas of Sunshine Grove
Chobeewobee Village
Yogachobee
Health & Wellness Zone (forest)
Field Games & Interactive Art
Okeechobee Farmer's Market
Participation Row
OMF is fully dedicated to contributing a significant long-term impact to the local community which is why we are proud partners with HeadCount. HeadCount's "Participation Row" is an interactive social activism village that connects music fans from across the country with the local Okeechobee County community.
HeadCount has hosted "Participation Row" onsite at the Okeechobee Music Festival each year since the festival's inception, and in that time has registered thousands of voters, encouraged civic participation, and supported dozens of local Okeechobee non-profits.
OMF 2022 PARTNER LOCAL NONPROFITS:
Treasure Coast Food Bank
Thank You For Your Service
Martha's House
Healthy Start
Helping People Succeed
Big Brothers Big Sisters
End the Hunger Program through Okeechobee County Schools
Clean Vibes
As we enjoy this magical weekend of music, art and countless experiences, please be mindful that we are guests at Sunshine Grove. The Clean Vibes trash and recycling crew will be keeping the campground and venue areas clean throughout the weekend, but we all need to do our part and pitchin to keep the festival grounds as the beautiful nature paradise that they are.
Every vehicle receives two bags: the clear is for trash and the blue is for recycling. Any tin, aluminum, plastic containers, paper and cardboard can be recycled in the blue bag. You can get additional bags at any Info Booth in the campgrounds.
When the music stops at the end of the weekend, please be sure the take some time to clean up your campsite. Bag up all of your recyclables and waste destined for the landfill in separate bags. Do a quick sweep of the ground to pick up any cigarette butts and bottle caps from the grass – Sunshine Grove is home to vast wildlife and animals and it is our duty to protect them and leave no trace. Finally, tie off your full bags of waste and bring them to the edge of any road in the campground for curbside pickup.
Let's take the phrase "leave only footprints" one step further and make sure the footprints we leave are as small as possible. Thank you for keeping Sunshine Grove a beautiful place today and for years to come.
Health & Safety
It's okay to ask for help
Emergency medical services will be available in the campground 24 hours a day, along with a booth for ADA needs, Information and Lost & Found. Please familiarize yourself with their locations on the Okeechobee Festival Map so you can find them quickly in the event of an emergency.
On Site Medical Areas
You'll find three medical tents positioned throughout the festival footprint. You will be able to identify the medical tent by the red cross above the entrance. Remember: you will not get in trouble for reporting a medical emergency. Our first aid stations are judgment free.
Stay Hydrated
Are you thirsty? That means you're already dehydrated! Free water refill stations are located throughout the festival grounds and campground at each shower pod. Make sure to stop by and top off your bottle or hydration pack.
Ground Control
Our helpful Ground Control teams will be roaming the campground and festival site and can answer questions, help lost Okeechobeeings find their way, and assist with any emergency situations. Be on the lookout for these friendly faces in purple shirts.
Accessibility Info
We offer separate ADA campsites and stage viewing areas. Okeechobeeings are welcome to visit our Access Centers for assistance and information.
Stay Connected
Okeechobee App
Maximize your OMF experience and download our App where you can:
Customize your personal set times and view artist info
Get event messages and official OMF updates in real time
View festival and camping maps
Discover Chobeewobee Village activities, artwork and vendors
Just search "Okeechobee Music & Arts" in the Apple or Google Play stores.
OMF Text Helpline
Are you okay? Does your neighbor need help? Text OKEE to 69050 to get in touch with Ground Control. They'll get back to you right away and make sure you get help. This number is available 24/7 throughout the festival.