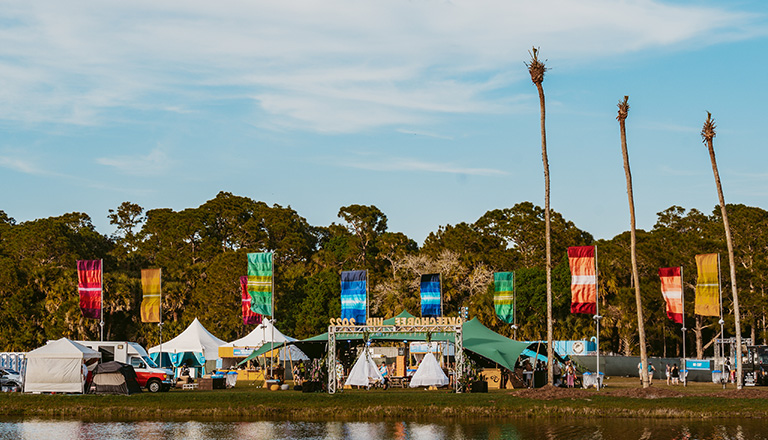 Camping Guidelines
Alcohol
You must be 21+ to consume alcohol in the campground and festival. If entering with alcohol, you must present government-issued identification. Law enforcement will frequent the campground and randomly card campers seen drinking alcohol. Underage drinkers risk receiving a citation or even being arrested. Campers age 21+ are advised to carry their government-issued identification AT ALL TIMES.
Acceptable: Up to 24 cans (under 12oz) of beer and alcoholic drinks under 16% ABV, OR up to 5L of wine PER PERSON. 1.75L of liquor in a plastic bottle only PER CAR. Any excess alcohol will be confiscated and disposed of.
Safety
The campground will be fully staffed by our Ground Control team, as well as medical and security personnel, 24 hours a day.

To help keep you cool during the day, we will offer shade structures, free filtered drinking water refill stations, and water misters. 

Please take care of your valuables. Okeechobee Experience LLC and the venue are not responsible for any lost or stolen items.
Item Lists
Note: Acceptable/Prohibited item lists differ between the campground and the general festival. Read below for camping guidelines, or view the festival guidelines.
Essential Packing List
We highly recommend bringing the following items for the most comfortable camping experience. Remember: It's only four days! Roll your clothes, and pack lightly.
YES

Two (2) travel-size locks if you wish to lock your tent or have added a ShiftPod to your camping experience

YES

Bicycles, scooters (non-motorized)—don't forget your bike lock! (Only 1 bike per person. Bring at your own risk. Bicycles left in unauthorized areas or fire lanes will be removed.)

YES

Earplugs

YES

Eye masks

YES Flags/banners/totems to distinguish your tent (see Totem

Guidelines

)

YES

Folding chairs

YES

Food and beverages/water (must be sealed)

YES

Ice chest/coolers

YES

Phone charger

YES

Reusable water bottles (non-glass, must be empty at entry)

YES

Sleeping bags, blankets, pillows, air mattress

YES

Sunglasses, hats, sunscreen

YES

Towels and sandals (for use in the shower)

YES Trash bags
Acceptable Items
These additional items are allowed in the campground:
YES Alcohol (see guidelines)
YES Battery-powered candles and lanterns
YES

Bicycles and scooters (non-motorized)

YES

Canopies, E-Z UPs, large umbrellas, or shade structures

YES

Cell phones

YES

Cigarettes (must be sealed upon entry)

YES

E-cigs/vapes (refillable liquid chambers OK—must be empty upon entry)

YES

E-juice (up to one bottle per person—must be factory-sealed upon entry)

YES Eyedrops (sealed at entry)
YES

Juul Pods (must be in sealed pack upon entry)

YES

Fanny packs

YES

Glowing/illuminated costumes or jewelry

YES

Glowsticks (string glowstick/LED pois, orbitals and whips are permitted but must be performed 5 feet away from others)

YES

Gum (must be sealed at entry)

YES

Hammocks

YES

Hula hoops (especially LED hoops!)

YES

Hydration packs with no more than two main compartments and one smaller compartment (must be empty upon entry)

YES Ice
YES

Lighters

YES

Lip balm/gloss (must be sealed upon entry)

YES

Makeup

YES

Manual scooters, skateboards, longboards, bicycles

YES

Non-amplified (acoustic) musical instruments

YES

Non-professional flash/still cameras and hand-held video cameras (e.g., Sony Action Cam, GoPro, Polaroid)

YES

Personal food

YES

Personal misting fan with a bottle no larger than 1.5L (must be empty upon entry)

YES

Personal-size battery-powered speakers

YES

Personal-size pool floaties (made for no more than one adult)

YES

Plastic mirrors (compact makeup and shatter-proof plastic mirrors measuring less than 8×8 inches)

YES

Physician-prescribed medication that is not expired (must show physician's prescription and consult with a safety officer upon entry)

YES

Reusable water bottles (non-glass, must be empty at entry)

YES

Small, portable propane grills/stoves* with small tanks, up to 4 lbs per group




(propane bottles that are part of your RV/camping trailer's internal system are OK, even if they exceed 4 lbs)

YES

Sunscreen lotion (inspected upon entry)

YES

Tampons and pads (must be sealed upon entry)

YES

Wagons (must be soft-sided, collapsible)

YES wet wipes (must be sealed upon entry)
YES

Wind chairs/sofas (must be deflated upon entry)
* Only you can prevent campground fires! During your stay in the campground, please monitor all cooking devices while in use, and turn off tanks when you're finished. If you see an unattended fire, please notify a campground staff member immediately.
Prohibited Items
The following are NOT allowed in the campground:
NO

Aerosol products/cans

NO

Bota bags

NO

Breakable glass or acrylic mirrors (compact makeup and shatter-proof plastic mirrors measuring less than 8″x8″ are OK)

NO

Butane grills or accessories, such as torches

NO

Costumes that resemble public safety uniforms (police, SWAT, fire, security, or medical) in any way

NO

Camping wind turbines

NO

Candles or live flame of any kind

NO

Dollies or hand trucks

NO

Drones or remote-control aircraft

NO

Drugs or drug paraphernalia

NO Dry ice
NO

Fireworks

NO

Gas generators (solar-powered generators OK)

NO

Gas masks

NO

Glass bottles (small bottles of perfume/cologne OK)

NO

Helium balloons

NO

Hookahs

NO

Illegal substances

NO

Large metal chains or metal spiked jewelry

NO

Large speaker systems (Sound systems are limited to USB-powered/personal portable speakers. No amplified sound systems are allowed. Okeechobee Experience LLC reserves the right to remove sound systems that do not follow these guidelines, and repeat offenders of noise complaints are subject to removal from the campground.)

NO

Laser pointers or air horns

NO

Loose cans or beverages (must be packaged and sealed at entry)

NO

Loose pills without a prescription, or expired medications of any kind (all medications, prescription or otherwise, must be in their original container)

NO

Medical or recreational marijuana

NO

Motorized vehicles of any kind, including off-road motorcycles, Segways, electric bicycles, hoverboards, powered skateboards, or scooters 

NO

Nitrogen dioxide (

NO2) canisters or nitrous of any kind

NO

Open campfires or fires/flames of any kind (propane grills OK)

NO

Open packs of cigarettes (upon entry)

NO

Personal gas tanks for refueling RVs

NO

Pets (except service animals)

NO

Professional recording equipment—photo, video or audio (detachable lenses, tripods, big zooms, or commercial-use rigs)

NO

Promotional flyers, promotional/corporate branded banners, or vehicles displaying sponsorships or ads

NO Solar camping showers
NO

Spray paint

NO

Steel knives or other utensils deemed as weapons

NO

Stickers or flyers

NO

Stuffed animals or dolls

NO

Tool boxes

NO Toy guns, water guns, slingshots
NO

Unauthorized vending of food or merchandise, including alcohol

NO Weapon or weapon accessories of any kind, real or fictional (including whips, lightsabers, pocket knives, pepper spray, fireworks, fake weapons/props, etc.)
Accessible Camping
Accessible camping locations are available for those with accessibility needs. Campsites include close access to paths, entrances, exits, shuttles, accessible restrooms, and accessible showers.
Accessible camping spots are available on a first come, first served basis. Registering helps us prepare for your group and plan our accessible camping area.
Accessible transportation will be available to take Okeechobeeings to different locations throughout the campground. Please visit the Camping Access Center, where you can check in and receive your wristband for all accessible viewing platforms.
To register for an ADA camping spot, please fill out our ADA Camping Registration Form.
To learn more about the accessible features of the festival, visit our Accessibility page.
Campsite Policies
RV Camping Check-in
RVs may not be dropped off, picked up, or set by a third party, or by anyone who does not have a valid festival and camping pass.
Each camper must have a valid festival and camping pass and must arrive ready in their RV.
RVs must be Class A, B or C, ranging from 19′ to 45′. Truck campers and fifth wheels are also permitted.
No refueling service will be available, so campers are advised to use their accommodations accordingly.
You may not exceed the total permitted length of 45 feet, including tow vehicle if applicable. Tow vehicles must remain attached to the pull-trailer at all times. Additional vehicles with car camping will not be permitted to park within an RV space and will be guided either to camp parking or a car camping spot.
All RV guests must arrive at the campground with a full tank of fuel to prevent issues with air conditioning.
No personal generator refueling will be permitted.
If you are connected to a 30A or 50A power supply and your RV overloads the power source, tripping the fuse, the breaker will be reset and you will be issued a one-time warning. If it occurs a second time, your RV will be disconnected from the power grid, without a refund, for the remainder of the festival.
Once parked, RVs may not be moved until 9am on Monday, March 6, unless leaving the festival and not returning. If you would like to leave the campground before the end of the weekend, please reach out to an Okeechobee staff member for an escort.
Camping Code of Conduct
Campers are expected to be courteous to one another, as well as to event staff. Okeechobee is shared space, and these are your neighbors for the next few days! Please do your part in making this an incredible weekend for everyone. If a guest participating in any of the following behavior is uncooperative or a persistent offender, they will be removed from the festival site. In certain situations, the offender may be arrested.
By entering the campground, you agree to adhere to the following code of conduct:
All campers must wear their Okeechobee wristband.

Campers consuming alcohol must be 21 or older, verified by valid photo ID, which may be randomly checked at any time.

All campers must be packed and vacated from the campground by 3pm on Monday, March 6.

No vehicle movement will be permitted once parked.

Prohibited items confiscated at entry or during the event will NOT be returned. Please don't bring prohibited items!
The following actions may result in a WARNING and/or EJECTION from the campground:
Irresponsible use of alcohol

Public nudity or lewd behavior

Accessing restricted areas without proper passes

Taunting, bullying, abusive/disruptive language, and/or obscene gestures

Littering

Failing to cooperate/comply with campground safety officers

Moving RV or vehicle to another location after placement by festival staff

Parking or extending any part of RV or tent into fire lanes or outside designated/marked area

Violating the tent and RV camping power grid policies
The following actions will result in IMMEDIATE EJECTION:
Relieving your bladder or bowels anywhere other than approved restrooms/portalets

Fighting or engaging in any action that may harm, endanger, threaten, or bring discomfort to anyone

Public sexual behavior

Possession/use of illegal drugs

Damage, destruction, vandalism, or theft of any property